When it comes to choosing a washing method for your home's exterior, you may be wondering what the difference is between soft washing and pressure washing services. Though both exterior cleaning services can be effective, they each have their own distinct advantages and disadvantages.
Here's a guide explaining the difference between the two.
WHAT IS SOFT WASHING?
When it comes to cleaning the exterior of your home or business, you have a few different options. One popular method is known as soft washing. Soft washing uses a low-pressure stream of water combined with environmentally friendly cleaners. This method is perfect for cleaning delicate surfaces such as shingles, siding, and gutters, and it is also gentle enough to be used around plants and landscaping. In addition, soft washing is effective at removing a variety of tough stains and organisms, including mildew, algae, and moss. As a result, it is an ideal choice for anyone in need of a thorough, yet gentle, cleaning.
PROS
Less risk of damage because it uses low pressure
More eco-friendly option
Less likely to strip protective coatings
Kills algae, mold, and mildew instead of just blasting it off
improves curb appeal
Safe for roof and gutter cleaning
… and much more!
CONS
Might require multiple treatments for the best results
Requires cleaning solutions
Possibility of staining from cleaning solutions
WHAT IS PRESSURE WASHING?
Pressure washing, also known as power washing, is a popular method of cleaning surfaces such as driveways, sidewalks, decks, and patios. The process uses high-pressure water to remove dirt, grime, and other build-ups from the surface. Professional pressure washing is an effective way to clean a variety of different surfaces, and it can be used on both commercial and residential properties.
PROS (IF DONE CORRECTLY)
Effectively cleans deep grooves and cracks
Very effective for cleaning walking surfaces such as driveways and sidewalks
Improves curb appeal
CONS (IF NOT DONE CORRECTLY)
Can cause injury
Can cause property damage
Can strip away your roofing shingles
WHAT'S THE MAIN DIFFERENCE BETWEEN SOFT WASHING AND PRESSURE WASHING?
Soft washing and pressure washing are two methods of cleaning exterior surfaces. Both involve using water and soap to remove dirt, grime, and other build-up. However, there are some key differences between the two methods. Pressure washing uses high-pressure water to blast away dirt and stains. This can be effective for removing tough build-up, but it can also damage delicate surfaces. Soft washing, on the other hand, uses lower-pressure water and biodegradable cleaners to gently break down dirt and grime. This method is less likely to damage surfaces, making it ideal for cleaning delicate exteriors like siding, shingles, and gutters. When it comes to choosing between soft washing and pressure washing, it's important to consider the type of surface you're cleaning. For delicate surfaces, soft washing is the best option. For tougher jobs, pressure washing may be more effective.
HOW MUCH DOES SOFT/PRESSURE WASHING COST?
When it comes to soft and pressure washing, costs can vary depending on a number of factors. The size of the area to be cleaned, the type of surface to be cleaned, and the level of dirt and grime build-up all play a role in determining the cost of a project. In general, smaller projects will cost less than larger ones, and simple surfaces will be less expensive to clean than complex ones. However, the most important factor in determining the cost of soft washing is the level of dirt and grime build-up. This is because more time and effort is required to effectively remove heavy build-up of dirt and grime. As a result, homes with heavy build-ups of dirt and grime may need to be washed more frequently, which will increase the overall cost of professional pressure washing/soft washing.
SHOULD YOU HIRE A PROFESSIONAL OR DIY?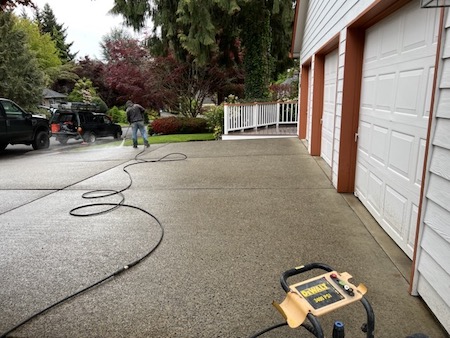 When it comes to keeping the exterior of your home or business in top condition, there are a lot of factors to consider. You want it to look good, of course, but you also want it to be safe and durable. That's why hiring a professional for soft washing and pressure washing is always the best option. DIY methods may seem simpler and more convenient, but they can actually end up causing more damage in the long run. Professionals have the knowledge and experience to properly assess the condition of your siding, deck, roof, gutters, or concrete and determine the best way to clean it without causing any damage. They also have access to high-quality equipment that can handle even the most stubborn stains. So if you're looking for the best possible results, be sure to hire a professional soft washing and pressure washing company.
YOUR LOCAL SOFT WASHING PROFESSIONALS
At Home Renewal Softwash, we are a father and son owned company that is passionate about helping customers! As owners, we are committed to 100% customer satisfaction. We offer the most effective and least aggressive methods to clean your home's exterior that adds back years to your home's life. We specialize not only in softwash but many other kinds of cleaning as well. With over six years of experience cleaning roofs and exteriors of homes, we have the skills and knowledge necessary to provide our customers with the best possible service at a reasonable price. Contact us today to schedule a free consultation!
Some services we offer include:
Roof Cleaning Services
Exterior Gutter Cleaning
House Siding Cleaning
Concrete Cleaning
Exterior Soft Washing
Exterior House Cleaning Services
Window Cleaning
Pressure Washing Services
Soft Washing Services