Exterior Soft Washing and Pressure
Washing Services in Vancouver,
Washington and Surrounding Areas.
Specializing in Roof | Siding | Concrete | & so much more
Exterior House Cleaning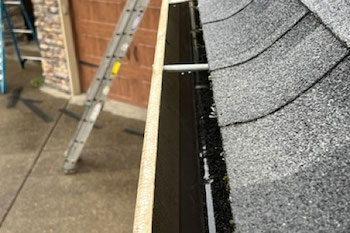 Our original area of expertise, we have a combined 16 years in the gutter and roof cleaning industry. Our softwash solution will flush out any organic material clogging the drain and keep it clean. We also remove larger debris by hand if our softwash doesn't break through to keep your gutter flowing properly.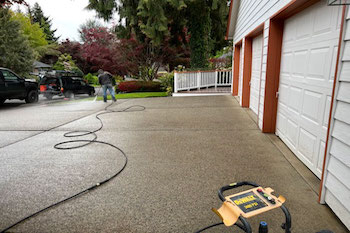 Pressure washing is an important part of maintaining your home. It not only keeps it looking its best, but it also prevents dirt and grime from building on the home's exterior. We use a low-pressure system and a proprietary cleaning agent to keep your home clean without damaging it.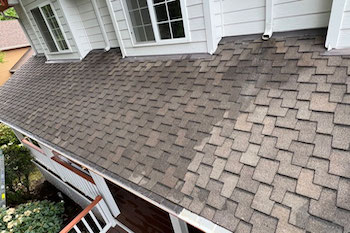 One of our original services, roof cleaning requires expert hands in order to be done correctly. High-pressure water can destroy shingles, warp metal and crack tile alike, resulting in even more expensive repairs. Extend the life of your roof by having it professionally softwashed on a regular basis.
Your Trusted Exterior Cleaning Services
Homeownership is a neverending struggle. Whether weeds or roofs, interior or exterior, there is always something to repair, replace or clean. At Home Renewal Softwash, we take the stress out of exterior house cleaning with our unmatched pressure washing. We go beyond grabbing the pressure washing machine and setting it to eleven.
Our renowned softwash technique uses low pressure and a proprietary chemical mixture to remove dirt and germs from your home exterior without stripping paint, damaging shingles or breaking gutters. We offer one-time cleanings as well as regularly scheduled softwashing services to keep your home looking at its best, increasing its value and appearance.
What is Softwash Cleaning?
While most homeowners know of the vaunted pressure wash and the oddly satisfying feeling it provides, our softwashing services are an affordable, effective and safe alternative for your home. It's similar to pressure washing, but it uses low pressure and a biodegradable formula to clean.
The solution does the hard work of eradicating all the undesirable living organisms that grow on your home or concrete. But that's not all, our chemical mixture is environmentally friendly and will not affect pets or family members. When you want professional exterior house cleaning you want Home Renewal Softwash.
We Are Your Exterior Maintenance Experts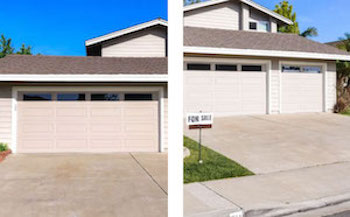 Since 2016, we have focused on more than just cleaning the siding of your home. Our father-son company provides a variety of exterior cleaning services, including siding, roof, driveway and gutters, as well as gutter guard installation and gutter repairs. Learn more about our full breadth of services below, then contact us to inquire about how we can render your home exterior spotless.
Building Siding Cleaning
Siding requires a softwash approach to prevent unreasonable wear and tear on the material or chip and fade the paint job. Our softwashing mixture can clean all types of siding, including vinyl, aluminum, brick and more. In addition, its biodegradable chemicals pose no danger for pets or families.
Driveway Cleaning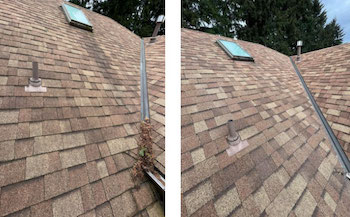 Nothing makes a home look unkempt like a dirty driveway or walkway. Over time, oil, grass stains and general wear and tear can leave your concrete looking dull. Home Renewal Softwash can help. We will break out our pressure washing solution to remove all the dirt, grime and stains from your driveway without damaging the material.
Gutter Guard Installation
Gutter Guards are a great way to keep your gutters clear of larger debris like leaves, twigs and branches, while still retaining the water filtration benefits of a gutter. We have been working with Gutter Guard products since our company's inception, meaning there are no better experts.
Gutter and Downspout Repairs
In addition to Gutter Guard installations, we can also repair and replace gutter components. If you have a gutter that is sagging, pulling away from your home or leaking, we can help. We offer gutter repair to fix any issues and put your gutters back in working order before the rainy fall and winter months.
The Search For Exterior House Cleaning Near Me Is Over
If you're looking for exterior house cleaning services in Vancouver, Washington, that you can rely on, you're looking for Home Renewal Softwash. We are Vancouver's trusted home exterior cleaning service that does more for homeowners. With a wide variety of services, unmatched customer satisfaction and reasonable prices, we have the experience and expertise to leave your home looking new. When you want your Vancouver home cleaned properly, call Home Renewal Softwash today for a free estimate. We look forward to hearing from you!