Your Trusted Roof Cleaners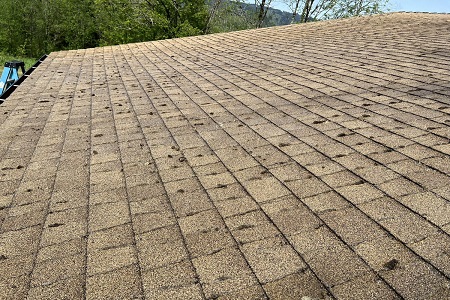 Your roof is a helmet. It protects everything inside from whatever might fall from above. A moss-covered roof can hide ugly stains and other potentially expensive damage. Keeping it clean means keeping free of debris that might damage roofing materials, weigh down the supports and cause leaks.
Home Renewal Softwash has been providing roof cleaning since 2016. With over 15 years of combined experience, residents can trust this father-son duo to finish the job correctly and on a timely schedule. We use a softwash mixture to ensure your roof is cleaned without damage, all while sparkling like new to improve the appearance of your home.
Softwash differs from pressure washing by using lower pressure and biodegradable cleaning formulas to remove mold, mildew, moss and more from your roof. The lower pressure also means your home will not suffer damage during the roof cleaning process, avoiding expensive repairs.
The Search For Roof Cleaning Is Over
Home Renewal Softwash cleans a variety of roof types, including shingle roofs, tile roofs and metal roofs. As experts, we know how to use a pressure washer on each of these materials without damaging them. We also provide gutter repair and cleaning in addition to our roof cleaning.
Shingle Roof Cleaning
Shingle roofs can consist of either cedar shake or asphalt shingle materials. Both are very similar in durability, but asphalt shingles are cheaper due to the low cost of manufacturing. Cedar shake might last longer, but it is also susceptible to organic growth like moss. Regardless of which shingle material your home has, we can clean it without damaging the roof structure underneath!
Tile Roof Cleaning
Tile roofing is a popular roofing material choice for homeowners because of its classic look. Homeowners often choose either concrete or clay tiles to roof their homes. These roof types are very durable and can last for generations with proper care. However, they can crack under intense pressure from an improperly used power washer. Home Renewal Softwash will never use too much pressure on your roof, ensuring that your tiles are not damaged during the cleaning process!
Metal Roof Cleaning
If you have a metal roof, then you know how tough they can be. Metal roofs are known for their durability and longevity, but they can still suffer from mildew build-up and other organic materials over time. Our roof cleaners will use a soft wash cleaning process to clean your metal roof without damaging it!
When You Need Roof Moss Removal, Give Us A Call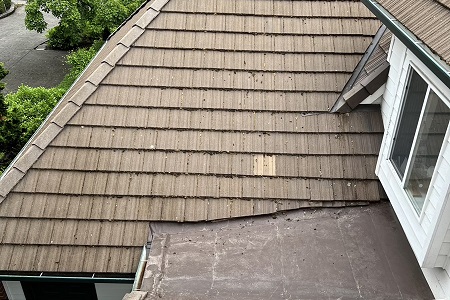 Is there moss, mildew or mold growing on your rooftop? Maybe you know the roof needs a thorough cleaning session, but you don't have the time or hose length to clean up there. No matter!
Home Renewal Softwash will take on the job for you and have your roof looking good as new in no time. We are the roof cleaning company that homeowners trust for moss treatment and Pacific Northwest roof care. Our family-owned and operated company has the experience and expertise to clean any roof type without damaging it.
We can clean all roof types from shingles to tiles to metal. We also work on home exterior cleaning, and scrubbing surfaces such as siding, gutters, driveways and walkways. When residents need roof moss removal or roof cleaning near them, they call the best in the business. They call Home Renewal Softwash.
Contact us today for a free estimate!