The Search For Pressure Washing Service Is Over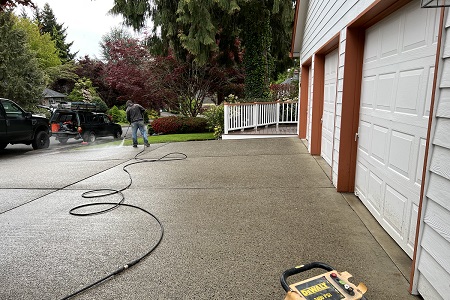 If you're looking for pressure washing services, look no further than Home Renewal Softwash. We are a father-son duo who knows how to keep your property squeaky clean and improve its appearance. Since 2016, our family-owned and operated business has specialized in pressure washing services for siding, roofs, gutters, driveways, and walkways.
Pressure washing is an integral part of maintaining your home. It keeps it looking its best and prevents dirt and grime from building on the home's exterior. We use a low-pressure system and a proprietary cleaning agent to keep your home clean without damaging it.
Pressure washing has never been so easy! So contact us today if you're ready to sit back and relax while someone else handles the cleaning. We'll be happy to give you a free cost estimate.
What is Softwashing?
While most homeowners know of the vaunted pressure wash and the oddly satisfying feeling it provides, our softwashing services are an affordable, effective and safe alternative for your home. It's similar to power washing but uses low pressure and a biodegradable solution to clean.
The solution does the hard work of eradicating all the undesirable living organisms and stains that grow on your home or concrete. But that's not all. Our chemical mixture is environmentally friendly and will not affect pets or family members, all while still removing organic growth. When you want a pressure washing project done at an affordable price you want Home Renewal Softwash.
Home Power Washing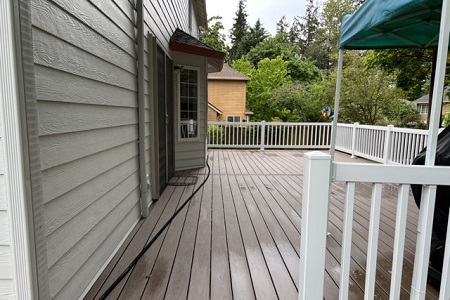 Power washing regularly is a great way to clean your home's exterior, but it's essential to use a professional service that knows how to do it without damaging your home. Home Renewal Softwash is your one-stop shop for your power washing needs. From cleaning your roof to washing siding to making your driveway sparkle, our father-son duo has been cleaning homes with pressure washing since 2016, and we know how to get it done right.
Take a peek at all the different cleaning services we can provide with pressure washing service then give us a call if your home needs our assistance today. With Home Renewal Softwash, your home will never look better!
Concrete Cleaning
Pressure washing is one way to clean concrete, but the pressurized water will degrade concrete and other outdoor hardscapes over time. Our softwashing method is a safe and effective alternative that will clean your concrete and protect it from future wear and tear! Whether it's your driveway, sidewalk or patio, Home Renewal Softwash can get your concrete looking like new again.
Professional Siding Cleaning
Your siding is one of the first things people see when they drive by your home. Over time, it can become stained and dingy. Pressure washing is a great way to clean your siding, but it's essential to use a professional service that knows how to do it without damaging your siding. Home Renewal Softwash has been cleaning siding since 2016, and we know how to get it done right.
Gutter Cleaning
Your gutters are an essential part of your home's drainage system. Homeowners must clean them regularly to prevent leaves and other debris from clogging them. Pressure washing your gutters is a fantastic method to keep them clean, but it's critical to employ a professional crew that knows how to do it without causing damage. Home Renewal Softwash has the experience and expertise to keep your gutters looking new.
Roof Washing Service
Your roof is one of the essential parts of your home. It's vital to keep it clean to prevent mold, mildew and other growths from damaging your roof. Your roof might seem sturdy enough to handle high-pressure washing, but it's not! Pressure washing your roof can damage shingles and cause leaks. Home Renewal Softwash uses a safe and effective softwashing method to clean your roof without harming its structural integrity.